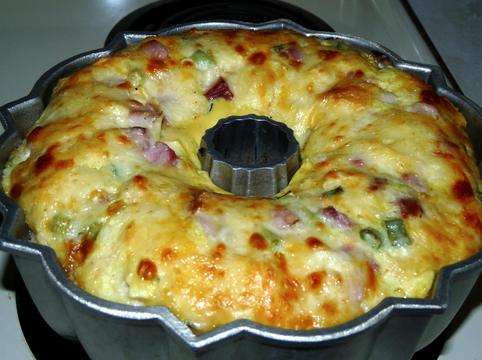 BUNDT CAKE BREAKFAST
INGREDIENTS:
•1 Cup diced Ham
•2 Cups tater tots.still frozen
•1 Dozen whisked eggs
•1 Can (8) Pilsbury Grands biscuits..diced up (raw)
•2 Cups Cheese…your choice…I used Cheddar
•1/4 Cup milk
INSTRUCTIONS:
-All mixed together. Put in greased bundt pan. Bake on 400°F. for 45Mins. When done flip onto platter and cut and serve
-You can use any meat or any veggie you want! The key is not to add too much bread and the tater tots add just the right amount of potatoes…they shred up and you would think they were hash browns without making it dense!
-I have made this SOO many times and varied the ingredients almost every single time! but this morning these were the simple ingredients I used So get creative! you won't find this recipe anywhere because, as usual I MADE IT UP!
CLICK NEXT PAGE BELOW TO CONTINUE READING…
[Yummy]: Please make sure to Like and share this Recipe with your friends on Facebook and also follow us on facebook and Pinterest to get our latest Yummy Recipes.
♥♥ENJOY ENJOY!♥♥
Follow me on Pinterest !